My seemingly never-ending tendinitis saga created another setback.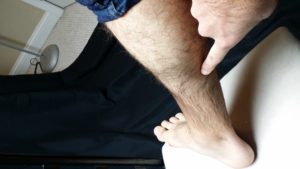 If you recall, I previously posted about missing running.  It's turned from out a few weeks to hopefully only a month more before I can go.
Ugh, soft tissue injuries.  The ones that we're not sure if we'll be out a few days or nagging us for months.  Recovery runs are those that actually help us when our muscles are sore after hard runs or races.  We really don't have anything for tendinitis.  Rest and recovery are generally what the doctor orders for tendinitis (I haven't seen one; but have done lots of research on it, as well as listening to my body).
I thought that after some time off that my injuries would heal themselves.  This does not seem to be the case.  I'll have to go more into treatment mode than I've had to do with previous injuries.  Before, rest has helped but here it seems I'll need more.
This is a new thing for me.  Actually, this is the first actual running injury I've sustained in nearly two years (and it stems from poorly-fitting shoes, ugh).  So, the silver lining is I don't often have repeat injuries and because this is new, I am able to prevent it in the future, right?
As the new year has approached, I have seen many friends post updates and wish I could join them, in spirit as many don't even live in the same country as me, but I'm on the sidelines until further notice.  I suppose I'm identified as a runner.  What are you identified as when you can't do your identity?  I haven't the foggiest.
At times like this I can only hope that I never not look forward to a run.  That I don't take each and every one for granted.  Because, there will be times that I can't run.  And we want what we can't have.
The new revelation will be how this affects the rest of my year.  I have a marathon April 9.  It's looking more and more like I'll run that as a training run, not as a marathon to be raced.  I'd rather use that as a long, slow distance run that won't take me out for a month because I don't want to take more time away from training.  Last year I didn't really have much time consecutively that I could train.  I'd trade running a marathon for more time to train for a goal race in November.  I also have a 50/50 in August, for which who knows how long that'll take to recover.
This year may follow a comparable schedule to two years ago in which I really started training in February and really kicked it up many, many notches when I really that I was pretty good at running.  It was basically a very long, six month cycle that went from starting around 20 miles per week to 84 miles, in only a few months.  Who knew the more we practice the more talent we learn we have?
My races planned for the year:
Eisenhower Marathon, April 9
A small marathon, which I might have been able to podium if not for this injury.  I'll still undoubtedly be able to run it, but just that, run it.  26.2 miles easy doesn't take much time to recover, and I'll still be able to train fairly quickly.  Plus, it'll be a nice endurance boost.  Mostly importantly, I'll meet many new friends!
Cap City Half, April 29
They hit the "marathon price" button when filling out the registration forms.  But, it's a VERY WELL produced half and I need revenge from when I crashed and burned a couple of years ago.
Squamish 50/50 August 19/20
Yes, 50 miles on Saturday with 50 kilometers on Sunday.  19,000 feet of total elevation gain.  I have no idea what to expect, but a great experience with great friends at a great location.  My ultra fix for the year.
Columbus Half October 15
My favorite race of the year.  Can't wait.  It'll definitely be my goal half of 2017.
Goal Marathon, probably Philly
I had a great time last year.  I loved the course, but we could have done without the wind.  Definitely one to do again.
As Lou Holtz has said, "nothing is as good as it seems, and nothing is as bad as it's seems."